Posted on 18/10/2021 2:18 PM | by NaijaHouses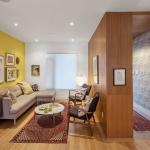 The living room is the place where you entertain your guests and where you entertain yourself as well. Usually, the living room is the first part that people could see which is the reason why it is the most well-decorated area. There are times when this area is turned into a home theatre and sometimes, it is a study area. Most of the time, family and friends are gathered in the living room. Bonding time would indeed be great especially if you are sitting and lounging in a well-designed area.
A design could tell the personality of the homeowner. Make sure that you will decorate your living room in a manner that it will give a positive impact on the visitors. If you do, your family and friends will surely love your home and will be truly inspired to re-design their own homes, too! Be an inspiration to others! Set up a truly inviting living room atmosphere through the tips we will give you below.
Read More